Sr.
Gloria
Eugenia
Piedrahita
Tamayo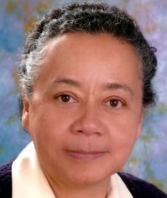 Structure: Province of Los Andes
Member: Elected
Profession: 11/21/1987
I work in the mission of the Congregation in the Province of Los Andes since 33 years, mostly in Peru.
This is the first time that I will participate in a General Chapter.
Present Mission
I offer courses at the Conference of Religious of Peru and accompany workshops and/or retreats for other religious Congregations. I Participate in Social Means of Communication (MSC), as Coordinator in the Congregation and also in the Province.
What you think are the great challenges for the Congregation in the next 5 years?
To accept and assume INTERCULTURALITY once and for all so that it will help us to go across borders, interactions between Africa-India with America... Meeting of Formation and animation teams with the sisters of the whole Congregation.

To grow towards spirituality.

To be open to have a universal mind. We need to develop a broader vision for the universal Church and the international Congregation.
To rethink the mission of the General Government to ensure greater closeness and spiritual dynamism.
To accompany persons and processes from humility, joy and service.
To attain a more nurturing Religious life, with much more prophetic and mystical witness so that together with the laity and other congregations we become collaborators in the project of the Kingdom to live the mission of the Church and the Congregation.
To go across borders by opening ourselves to new technologies with a bold as well as critical attitude.