Sr.
María
Ascensión
Villanueva
Rubio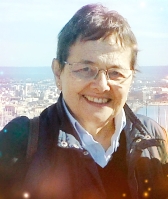 Structure: Province of Spain
Member: Elected
Profession: 11/21/1974
I was born 65 years ago, in Bilbao (Bizkaia). I made my profession on November 21, 1974.
I am a nurse, but I discontinued my nursing profession when I was sent to Rome for studies. After finishing my studies in religious sciences, I was sent to a mission in Brazil for six years in the community of Alexandria-RN. During that time I was part of the Province of Manizales. When I returned to the Province of Spain, I collaborated for a few years with the NGO "Almeria Acoge" in the reception and documentation of immigrants from North Africa. Later I worked in the school of Reus (Tarragona) and now I am in the school of Pont d´Inca (Mallorca).
Present Mission
Since 2006, I work in St. Teresa's School, owned by the Congregation, in Pont d´Inca (Mallorca). I share the mission with the community of education by offering diverse services. I also collaborate in the parish teaching catechism for the preparation for first communion.
What you think are the great challenges for the Congregation in the next 5 years?
Spirituality.
International Mission.
Missionary restructuration.
Openness to share our mission with laity and other Congregations.
Involvement in the Care and defense of nature.