Sr.
Brisa
Yolanda
Cárdenas
Silva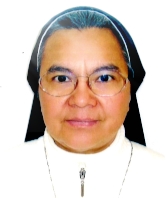 Structure: Under the General Government
Member: Elected
Profession: 01/07/1990
I am from a family of 10 children, entered the Congregation in 1986.
I have 29 years of religious Profession. My religious life was lived in Colombia, Cameroon (11 years) and Rome with experiences in pastoral ministry in the parish, education and formation. I thank the Lord and the Congregation for these diverse experiences that became very enriching for me to know different cultures and grow in openness to the diversity.
Present Mission
Superior of the community of Valdieri. I collaborate in the secretariat and I study Missiology.
What you think are the great challenges for the Congregation in the next 5 years?
Deep spiritual and missionary life of sisters which will lead us to be audacious and creative like Marie Poussepin.
Restructuration of the Congregation to unite forces and renew our Charism.
Orientation for interprovincial mission which will help us think together and live communion in the Congregation.
Favor experiences which fosters interculturality enabling us to witness in the midst of this world which lives more and more exclusion (of religion, race, politics).
Missionary presence in the peripheries (family, youth, digital world, care of creation…).