Sr.
Luz
Karime
Mancipe
Laguado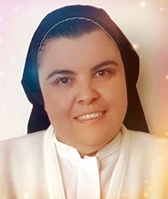 Structure: Province of Bucaramanga
Member: Elected
Profession: 12/08/2002
I am from Arboledes, north of Santander.
I have 16 years of religious profession. My mission had been in education and formation. I have worked tirelessly with youth, promoting vocations.
Present Mission
I am Provincial Councilor and Provincial Secretary. I am also responsible for Media and Communications and Vocation Promotion.
What you think are the great challenges for the Congregation in the next 5 years?
A new context for our mission to enrich our Charism.
Gift of accompaniment in formation.
Animation of vocation creating a vocational culture.
Internationality and inter-culturality.
New community structures.