Sr.
María
de
los
Ángeles
Flores
Pérez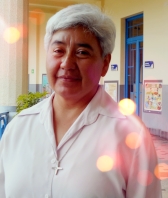 Structure: Province of Guadalupe
Membre: Elected
Profession: 07/05/1987
I am a Mexican sister aged 54 and I have 30 years of religious life
I am the daughter of Mr. Cleofé and Mrs. Caridad, a couple of saints in life. I have 5 sisters and a brother who try to love each other as our parents taught us. I love Christ Jesus; I remain docile to live the Trinitarian life, that I love and that attracts me; I continually ask the grace to serve and love God in the brothers. I thank God for knowing and living the charism of Marie Poussepin. The pastoral that has polarized my missionary life is the youth ministry.
Present Mission
I coordinate the Pastoral of the Mier y Pesado Institute that cares for girls and adolescents.
What you think are the great challenges for the Congregation in the next 5 years?
On a personal level, deepen and live our identity as consecrated.
At the community level, continue the work of building coherent communities without being discouraged by the possible fragility of current communities or the long process. Serve humanity from our being of belonging to God.
Continue with the missionary review that ensures our presence in the border areas.