Sr.
Marta
Inés
Toro
Pérez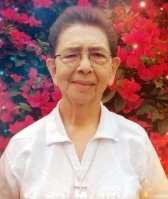 Structure: Viceprovince of United States
Member: Ex Officio
Profession: 05/08/1965
Born in Colombia, where I joined the Congregation.
And was sent to the USA as I was starting my formation. Have ministered in building communities and striving to help people to be the best of themselves, in different areas of the USA, in Puerto Rico and for twelve years in Honduras.
Present Mission
What you think are the great challenges for the Congregation in the next 5 years?
To strengthen the spiritual dimension of our lives.
To rekindle the sense of community and commitment.
To let go of what has been and have the courage to join efforts to be instruments of new life.
To respond in a creative way to the emerging needs (although we are fewer, older and in more areas).
To find appropriate ways to organize administration in the changing structures (restructuration).