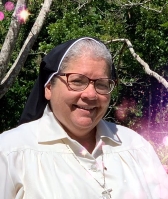 Structure: Province of Caribe
Member: Elected
Profession: 02/16/1986
I am an American, of Puerto Rican parents.
I was 14 years of mission in the Dominican Republic, I was a member of the foundation team, I have shared my life in 4 structures, I was in provincial government service for three periods, one as a counselor and two as provincial.
Present Mission
Support in the provincial house in Venezuela, in everything that is presented. I am very happy and live my religious consecration filled of hope.
What do you consider to be the main challenges for the Congregation in the next 5 years?
Uninstall ourselves at every level to discover the the action of God in the surprise of life and take us to others.
A new missionary impulse, trough the exchange of sisters, to favor the first love in our lives,and lead us to break barriers of nationalities.
A fullfilled, happy consacreted life…with a solid spirituality.
Vocations and our response in formation.