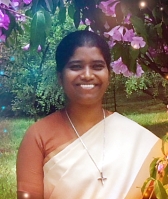 Structure: Province of India
Member: Elected
Profession: 05/01/1997
I enjoy being a Dominican Sister of the Presentation.
Living the charism of Bl. Marie Poussepin by doing my regular observance mindfully, imparting the love of Jesus, Virgin Mary, St. Dominic and Bl. Marie Poussepin to the formees. The passion for Liturgy is a force within me to teach, preach and help others to participate in the Liturgy meaningfully. I love to live with the poor people in the village as a missionary.
Present Mission
Novice Mistress, Visiting Professor in Seminary, Vice-President of Indian Liturgical Association and Joint Secretary of the Archdiocesan Liturgical Commission.
What you think are the great challenges for the Congregation in the next 5 years?
Genuine Vocation.

Social barriers like media, wealth etc., has become an attraction which declines the value of misión and the commitment is a fear.

To be a role model, by witnessing Christ. People have lost faith in religious due to many scandals and this is a great hurdle.