Sr.
Anney
Chummar
Maniyamkott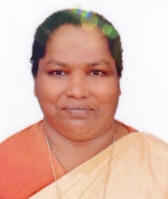 Structure: Province de l'Inde
Member: Élu
Profession: 05/31/1991
I made my first profession in the year 1991 and have completed 28 years of religious commitment.
In profession I am a teacher as well as a social worker. I have served in the province as provincial councilor, and most of the time I was engaged in development work. I had opportunities to serve the marginalized people and was blessed to know the pain of the suffering humanity, being one among them. I am happy to be a member of Dominican sisters of the presentation and reach out to many, giving oneself and impart the love of Christ.
Present Mission
I am engaged in development work specially amoung the tribales to bring them to the mainstream of the society.
What you think are the great challenges for the Congregation in the next 5 years?
Decrease of vocation in all our structures.
Lack of committed religious to continue the charism of our Blessed Marie Poussepin.
Growing in Individualism.
Lack of openness to internationality, interculturality.