Sr.
Philomina
Vengachottil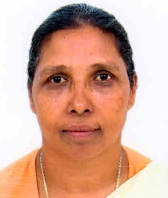 Structure: Province of India
Member: Elected
Profession: 05/31/1990
I made my first profession in the year 1990 and have completed 28 years of religious commitment.
I am a teacher professionally; I have served in the province of USA for two and a half years. I have served in the province as provincial treasurer, councilor, formator and provincial. I had opportunities to serve in various missions and was blessed to know the congregation at different levels. I am happy that I belong to the congregation of Dominican Sisters of the Presentation who is able to give ourselves for the mission of Jesus through our congregation.
Present Mission
I am serving as the Principal of Marie Poussepin Academy, Nagpur school for the last few months. I am happy to mould the young minds to become a good citizen with the values of the Gospel and the teachings of our Blessed Marie Poussepin.
What you think are the great challenges for the Congregation in the next 5 years?
The first challenge is that the decrease of vocation in all our structures. Since we have few vocations it is going to be really difficult to carry out the mission what we own in all the structures.
Aging of our sisters in all the structures is an another challenge.
We need more committed religious to continue the charism of our Blessed Marie Poussepin.
We need to be more community minded rather than isolated in the digital world.
Be people of God centered and give the fruits of contemplation in our service.
Need to be open to internationality, intercultural living and the generosity to collaborate with the other structures.