Sr.
Martha
Lucía
Andrade
Morales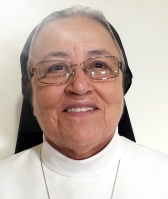 Structure: Province of Manizales
Membre: Ex Officio
Profession: 10/14/1968
Colombian, Vallecaucana. 55 years of consecrated life.
Teacher, but at the same time I have carried out my mission in Education, Formation, Government and Administration as a provincial treasurer.
Present Mission
Which do you consider to be the main challenges for the Congregation in the following 5 years?
Give concrete answers to the demands of the church, the world and, the Congregation itself.
Lead the road map proposed by the General Chapter regarding restructuring.
Make visible in all structures the real and effective commitment with the poor and, for the poor.
"Be present wherever the Church calls us, wherever our brothers and sisters need us".
Real share between the structures.