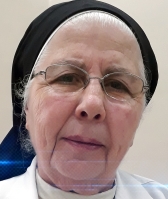 Structure: Viceprovince of Middle East
Member: Elected
Profession: 05/31/1967
I'm retired. Teaching at the University of Baghdad (Professor with a Doctorate in Optoelectronic Sciences).
Pastoral work; administration; accounting; domestic services in our mission.
Present Mission
Pastoral Service to the Sick at the Italian Hospital, Amman, Jordan.
Responsible for the hospital residence for the Nurses.
Working with families of Iraqi refugees.
Visits to the poor suburbs of Amman.
Domestic services inside the sisters' residence within the hospital.
Hospitality.
What you think are the great challenges for the Congregation in the next 5 years?
To change our mentality to accept today's realities in view of vocations.
Strengthening our mission with the poorest.