Sr.
Zabrina
del
Rosario
Llanos
Bolaños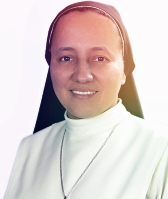 Structure: Province of Medellín
Member: Elected
Profession: 07/09/2003
I was born in the city of Barranquilla, Colombia; I have 15 years of consecrated life. I speak French.
I have been working in youth ministry and vocation promotion and also in education in areas of teaching as well as in direction. My first years of religious life was spent in Haiti where I enriched myself with intercultural and missionary exchange. This stage marked my later experiences as I have a broader vision of the structures and of the world.
Present Mission
Coordinator of vocation promotion and responsible for aspirants in the Province of Medellin.
What you think are the great challenges for the Congregation in the next 5 years?
To take appropriate decisions that can push the processes of restructuration, taking into account the complexity of the life and mission of the Congregation.
To speed up the updating of the Ratio Formationis, taking into account the complexity of the contexts in which we work, in order to respond effectively and pertinently to the needs of formation today, both for those who are already here and for those who will come.
To take care of the quality of life of our communities in order to ensure community and personal well-being that guarantees a missionary witness consistent with our way of life.
To effectively implement the criteria for formation to update and explain in an effective way the processes of initial formation to the needs of today.
To administer properly the material goods of the Congregation and our human resources so that they will lead to criteria for concrete decisions.