Sr.
María
Elizabeth
Caicedo
Caicedo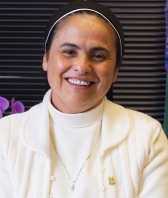 Structure: Province of Manizales
Member: Elected
Profession: 01/08/1990
I am an educator by vocation. I have 29 years of religious life.
Throughout my religious life my great passion has been for children and young people with whom I have shared a beautiful pilgrimage of formation. It has been for me an enormous grace to know the Congregation from different fields and places of mission. I thank the sisters with whom I have shared the mission for their witness of life and their fidelity to the Dominican charism of Marie Poussepin.
Present Mission
Rector of the Catholic University of Manizales, the only university of the Congregation in the world.
What you think are the great challenges for the Congregation in the next 5 years?
- To be a legible and credible witness of God in the world.
- To actualize the Charism of Marie Poussepin's in the midst of a world that generates more and more poor and poverty in an interconnected and technological world. A world that calls us to work with others and to build economies of solidarity.
- To restructure ourselves geographically and existentially, overcoming mental obstacles, fears and comforts.
- Accompany the excluded, discriminated and those who suffer from the destruction of the earth.
- The commitment to the formation of new generations: children and young people in values and in faith.