Sr.
María
Fabiola
Duque
Cifuentes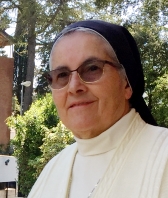 Structure: General Government
Member: Ex Officio
Profession: 10/13/1973
Colombian, born in Rionegro, Antioquia. Province of origin: Medellin.
After my first profession was sent to Bolivia, Medellin's region, today Province "Los Andes" where I lived 9 years and 14 in Peru. In Bolivia rural catechesis and education, Colombia pastoral family, pastoral care of sick and education; in Peru education, counselor and provincial treasurer. In Rome 4 years as a student of religious studies at Regina Mundi, and since 2006 in Valdieri, collaborating in the general treasurership, I lived two years in France (Mother House) also collaborating in the treasurership of the province.
Present Mission
What do you think are the major challenges for the Congregation in the next 5 years?
A deeper spiritual life that leads to a real personal, community and Congregational conversion; We have to listen to the voice of the Spirit, to accept the calls of the Church and help us discover new forms of presence for the announcement of Jesus Christ.

Risk to make the way for the Restructuring of the Congregation and Revitalize with new expressions of the values of the Gospel and the Charism, in response to the needs of the Church and the world today, taking into account the current reality of the Congregation.

Openness and availability to welcome the decisions of the General Chapter and to discern what God wants of us face new social, cultural and religious boundaries.

Form us on interculturality at all stages of life, from the initial formation.