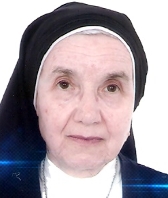 Structure: Viceprovince of Middle East
Member: Elected
Profession: 04/08/1971
Since my arrival in Lebanon, my mission was in a student's hostel till July 2016.
Also a service in the parish in a church belonging to Capuchin Fathers of St. Francis of Assisi in Bayreuth. In 2016, the community shifted to Hazmieh near Bayreuth waiting to finish the repairs of our house situated in Ghodrass: a new place for a new mission: a house of prayer.
Present Mission
Since summer 2016, we offer our presence in the parish called Mar Takla of Maronite rite. We participate in the parish life following whatever the parish priest, Fr. George who requests from us as he himself is very active.
What you think are the great challenges for the Congregation in the next 5 years?
To preserve our faith in this world which is more and more violent where human life is losing its meaning and does not have much importance.

To trust in the Lord in spite of the lack of vocations.