Sr.
Laura
Inés
Niño
Martínez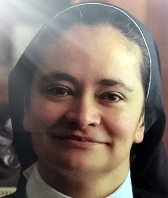 Structure: Province of Santafé
Membrer: Elected
Profession: 01/13/2002
I was born in a practicing catholic family and educated in the Dominican Sisters School.
With a great desire to know Jesus Christ. I was involved in the mission especially in the field of education in different places and in various responsibilities.
Mission actuelle
What you think are the great challenges for the Congregation in the next 5 years?
Coherence of life in our evangelical commitments.

To have capacity to attract vocations to continue our Charism.

It is vital to make Charity the soul of the Congregation.

To look for ways to sustain our missionary works responding to what is fundamental.

To assume the task of Humanization and Personalization from the essential needs of those who are in search of truth and joy of being and existing.

Integral, well-founded and comprehensive formation that responds to the circumstances of people and the challenges of today's world.

Building fraternity through assertive communication, service of authority, acceptance and appreciation of our Sisters.

To discover and cultivate the human capacities of each Sister in order to improve the mission entrusted to her.

To give and motivate children and youth to be in the world and to live in history joyfully.