Sr.
Mariamma
Paul
Ollukaran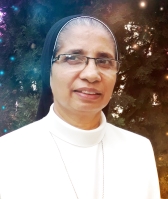 Structure: General Government
Member: Ex Officio
Profession: 05/31/1985
I am from India.
I participated in the Congregation's mission in the Province of India until I was elected to be part of the General Council in 2014.
Present Mission
What you think are the great challenges for the Congregation in the next 5 years?
Marie Poussepin wanted her sisters to be woman of Contemplation who will proclaim the Word through service of charity. Our great challenge is to live her original vision faithfully today and respond to the calls of the Church and the urgent needs of our brothers and sisters in fidelity to our Charism. This entails radical changes in each sister's personal life, in the life of our structures and the whole Congregation; it is to break down walls that separate us and build bridges which unites us to work together towards something new.