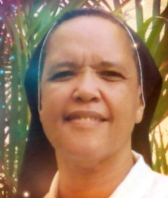 Structure: Province of El Caribe
Member: Elected
Profession: 09/07/2002
I am from Curaçao and I come from a family of 4 children, one brother and 3 sisters. I am the youngest of the family.
I am currently working in the mission of Curaçao. Curaçao is a small island which belong to Holland and famous for its tourism. The media and communication invaded our island in English. Because of all these beautiful circumstances we speak four languages which is: Dutch, Spanish, English and Papiamento which is our native language.
Present Mission
I am the President of the Catechetical Institute of the Diocese of Willemstad (Curaçao).
What you think are the great challenges for the Congregation in the next 5 years?
1. To learn Several Languages.
2. To return to the spirituality of Marie Poussepin.
3. To use media appropriately for evangelization.
4. To know how to accompany young people and be with them.
5. To welcome Emigrants taking into account the laws of each country.