Sr.
Herminia
Rincón
Marín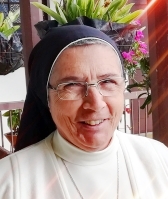 Structure: Province of Manizales
Member: Elected
Profession: 09/08/1974
I consider myself as a simple person, close to people with a great capacity to listen.
My evangelizing mission in the Congregation was in the field of Pastoral ministry, formation and service in the Provincial Government as Councilor and as Provincial.
Present Mission
I collaborate with the formation in our inter-provincial novitiate at Villa Clara in Manizales.
What you think are the great challenges for the Congregation in the next 5 years?
To search for strategies, means and resources to strengthen the spirituality of our sisters and the raison d'être of their vocation.
To make a real choice for persons and take pertinent decisions so that the works does not burden the Sisters. If the Sisters are spiritually strengthened, enriched by fraternal life and they are well placed in the mission, they will be happy and will be witnesses who announce the Kingdom and give life.
To revise the processes of formation and its pedagogy in such a way that the formation will offer a true re-signification of Consecrated Life and persons are prepared to make necessary changes and respond to the present reality of the world.
To be much more open to work with others (Church, religious communities, Dominican Family, organizations and lay people in general).
After more than ten years of discernment on the restructuration of the Congregation, it is time to make decisions, take risk, without fear, in order to help us return to a life according to the demands of the Gospel and to be an expression of the Kingdom for the Church.