Sr.
Rosario
Garcés
del
Castillo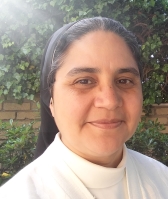 Structure: General Government
Member: Ex Officio
Profession: 01/07/1990
I was born in a very beautiful and warm city called Cartagena in Colombia.
I think that from the beginning, my life has been oriented to the search of the transcendence, of a deeper meaning in life and the Congregation has helped me a lot in this way of wanting to live in a different way.
Present Mission
I have been part of the team of the General Council of the Congregation for 10 years and during the last 5 years, I have been responsible of the General Secretariat.
What do you consider to be the main challenges for the Congregation in the next 5 years?
I think that like Mary Magdalene, we are invited to continue in the constant search for Jesus who is waiting for us, to share the good news of his Life in Fullness and to ask us to be announcers of his risen presence in our world.
Faith and Hope that strengthen Love are indispensable in this project that surpasses our own initiative, because as St. John says in one of his letters, we love God, because he loved us first ... I think that to welcome this call to live in Love can turn our lives into a praise to God, trying to do simply what Charity inspires us, to know how to live in the world of today as consecrated women.