Sr.
Delma
Celina
Giraldo
Patiño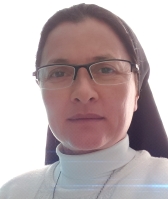 Structure: Province of Manizales
Member: Elected
Profession: 12/08/1998
I made my profession in the year 1998 and accomplished my mission in health field as Nurse, administrator.
I am creative, positive and value community life and work with others.
Present Mission
Provincial Councilor.
What you think are the great challenges for the Congregation in the next 5 years?
If we unify our efforts, the result will be good for all especially the work in collaboration with Sisters and lay people to achieve the proclamation of a transforming and all-encompassing Kingdom. The challenge for the next five years will be to move from theory to practice. To risk to think differently, unite forces in order to improve resources.
The Congregation today has of a lot of elderly sisters and we must ensure their integral welfare. Sisters who are active and laity will respond to the mission...
Challenge: to continue the revision of our missionary works, to remain solely with those who respond to the mission with the vulnerable population: women heads of families, migrants, peasants. We should undertake projects in solidarity to benefit these people.
In a world in need of God, we are called to be women sowers of hope, to continue to form values, to take care of life, to work for justice and peace, to be sensitive to the suffering of others. Challenge: to be part of the church associations that work with this objective to make visible our option for Jesus Christ, our liberator with concrete actions leading to care of life in all its manifestations.
To make our way of life attractive to new generations and to work for vocations by witnessing God's love in a joyful, fraternal, healing, close and merciful communities.