Sr.
Luz
Marina
Socha
Gómez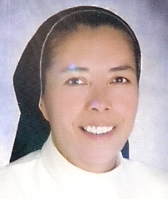 Structure: Province of Santafé
Member: Elected
Profession: 01/04/1992
I am part of our Congregation for the past 30 years.
During these years I have received continuous blessings from God and the Congregation. I feel privileged by God. I am an educator in heart and this has allowed me to offer services in education both public and private, in the coordination of vocation promotion, responsible for the stage of postulancy, mistress of novices and in the Provincial Government.
Present Mission
I offer my missionary service as Provincial Secretary and superior of the community of the Provincial House.
What you think are the great challenges for the Congregation in the next 5 years?
To make a constant return to the sources of Christian life and to the original vision of Marie Poussepin and an adaptation of these to the changes and transformations of these times.
To assume radically the challenges of the present moment, the apostolic challenges of living here and now the basic experience, that which touched Marie Poussepin and the first sisters.
Sisters, governments and superiors who animate, motivate, lead and accompany the spiritual, vocational and missionary life of the communities.
Our missionary service is limited and egocentric, everything revolves around personal and community needs, forgetting the people.
To announce to the Congregation a time of total renewal; where each of its members is able to take the first step towards the internal and external restructuring of the Congregation.
Given the situation of consecrated life today, the Church, the world and the Congregation itself, calls us to recover the identity of consecrated life: Mystical, prophetic and profoundly communitarian and missionary.