Sr.
María
Bernardita
Casanova
Urzua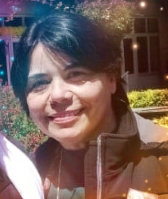 Structure: Viceprovince of Aconcagua
Member: Elected
Profession: 02/12/1989
I am from Chile and I am passionate and grateful for the life that God has given me.
Since my beginnings in the congregation, I have carried out my mission in the area of formal education; as a psycho-pedagogue, teacher of religion, and in recent years in the area of pastoral care through education. I am grateful for the many years I received for intellectual and affective formation, establishing links with people in this beautiful task of educating.
In addition, during these thirty years of my consecrated life, I have felt moved towards another of my passions that is to participate in mission, times of departure, dispossession and gratuity in order to touch the reality of the simple people of our countryside and the cities. , where I make visible the God of Jesus Christ who speaks to me and calls me to live my option for life in greater coherence.
Present Mission
Local Superior, member of the Formation Commission of the Vice-Province. Pastoral Coordinator of Our Lady of the Presentation Polytechnic School, in Melipilla, five years ago. Coordinator of the Community "Missionaries Presentation" of the Vice-Province.
What you think are the great challenges for the Congregation in the next 5 years?
- Restructuration as a source of dynamism for mission.
- A community life that convokes generates and offers meaning.
- The way of walking with the laity from participation to closeness in shared mission.
- To live the reality of the congregation in hope.