Sr.
Myriam
Botero
Sinisterra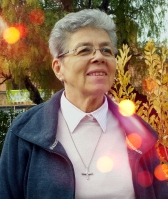 Structure: Province of Spain
Member: Elected
Profession: 02/03/1963
I am from Colombia. I was born in Cali 75 years ago.
I entered the Congregation in the Province of Manizales where I professed 56 years ago. I was sent on a mission in the Province of Spain for the past 26 years.
Present Mission
I have been an educator and I continue to work in our School at Mallorca, however, with a different rhythm. I coordinate the group for Solidarity Projects of the Congregation, as a mission entrusted to me by the General Government. Therefore I spend a lot of time looking for resources and funding for solidarity projects from different Non-Governmental Organizations.
What you think are the great challenges for the Congregation in the next 5 years?
To return to the spirituality that Marie Poussepin wanted for her community: Christocentric spirituality with characteristics of simplicity, poverty, work, joy and service.
To do a restructuration that begins with each sister and helps us to return to what is essential, to make Jesus the center and the reason for being of our life.
To configure a new map for the Congregation in which the missionary priorities of going to the peripheries, working for the integral promotion of persons, creating networks with laity and other Congregations... are more important than defining the geographical limits or the forms of government of the new structures.
To make the missionary formation of the new generations a priority so that the work of charity is "organized" generating processes to respond to the real needs of the people.
To create occasions or offer experiences at the Congregational level that help to live internationality and apostolic service that is creative, agile, multidisciplinary, separated, as far as possible, from the institutional model.