Sr.
Marta
Irene
Olavarría
González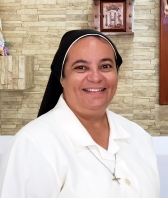 Structure: Province of El Caribe
Member: Elected
Profession: 09/08/1985
I am from the "Island of Enchantment," Puerto Rico located in the Caribbean Sea.
I am 57 years old and 34 years of religious profession. I knew the Congregation when I was 16 years old, when the Sisters came to work at St. Martin de Porres Parish in the town of Arecibo where I was participating in the parish activities. I was part of various apostolic groups of the parish such as youth group, Daughters of Mary, catechists among others. I had a concern about my vocation and I began participate in vocational encounters, retreats and sharing with the sisters.
I was very impressed by the testimony of the Sisters, their closeness and joy. I liked their simple and laborious way of life, the way of combining prayer and mission and that it was an international and missionary Congregation at the service of charity especially with the most needy. The voice of God burned inside me and I felt that my heart broadened and I did not want to limit my love to that of a family. I wanted to share God's love with others especially with those in most need. After a process of discernment I discovered that it was here that the Lord invited me to follow Him and I responded and journeyed to this great adventure until today.
I've been in different areas of mission. In Venezuela, I was involved in Education especially in the area of Pastoral and Youth Ministry in Tovar and Maracaibo. In Puerto Rico I was involved in Parish work, catechesis, youth ministry, family ministry and social ministry. Educational and Pastoral ministry as a religion teacher in secondary school and Pastoral Coordinator in the towns of Bayamón, Carolina, Quebradillas, Hatillo, Naranjito and Arecibo.
Present Mission
Currently I work as Pastoral Coordinator in two Diocesan schools in the Diocese of Arecibo in Puerto Rico and in the Youth ministry in the San Martin de Porres Parish in Arecibo and in the Vocational Youth ministry in the Diocese. I am passionate about education and working with young people. I am very happy with the vocation received and to belong to this religious Congregation. I want to pass on what I love to others and continue to respond faithfully to God every day.
What you think are the great challenges for the Congregation in the next 5 years?
1.
The Poor: Our missionary priorities should be with the excluded and we should be able to respond creatively and decisively to the cry of the poorest present in today's peripheries.
2. Restructuration: To reform the structures in such a way that we can revitalize the Congregation which will help us re-signify our life and live a renewed mission in solidarity.
3. Interculturality. To take up the challenge of interculturality with all its implications.
4. The laity. To achieve a missionary integration shared with the laity and formed from our spirituality.
5. Vocation Ministry with the youth: To create a "Vocation Culture" that permeates all our being and doing.